I am doing a Goodreads Book Giveaway.
Win an **Autographed** copy of The Eleventh Hour by Daniel Kaye.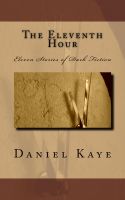 A collection of eleven dark fiction short stories by published author, Daniel Kaye.
Each one individual and gives us tales in Possession, Guilt, Paranoia, Depression, Secrets, Grief, Haunting and Murder.
**NOW with four extra bonus stories**
Smashwords Reviews on The Eleventh Hour
https://www.smashwords.com/books/view...